Local football coaches Daniel Gorman and Jonathan Heffernan from Ballina teamed up with football legends Rio Ferdinand, Joe Cole, Glenn Hoddle and Steve MacManaman to deliver a landmark event at Crusaders FC's Seaview Stadium, Belfast on Tuesday 10 August.
Gorman and Heffernan were part of a coaching team led by former Chelsea and England Legend Joe Cole that delivered the Hope Cup on 10th August, a showcase event as part of BT Sport's #HopeUnited campaign.
Jonathan Heffernan said: ' It was an honour to represent Ballina and Mayo in working with these young people and seeing how we can bring people together through sport. Working with Joe Cole also gave me a few tips I can take into my role as first team manager at Ballina Town FC and seeing the great work happening in the North has given a great boost to the Youth In Action project here as we start back to work after the Covid19 lockdown.' Dan Gorman said: ' Being a part of this project and event makes it clear how important it is to bring people together and provide opportunities for understanding and friendship. The young people we trained and were involved with had a fantastic time and it was good to not only meet but work with some football legends who want to give back to the community.'
The event which was organised by the Irish FA, and delivered in partnership with UEFA and BT Sport, highlighted the important work being done to bring communities together through sport, to promote youth leadership and tackle inequality.
Gorman and Heffernan have worked for the Rio Ferdinand Foundation since January 2021, as project leads for the Youth In Action project in Connacht.
Rio Ferdinand Foundation CEO Gary Stannett, also based in Ballina, said: ' The Youth In Action project uses football to bring young people together and tackle racism and inequality in their communities. The fact that we have had coaches from Connacht working with refugee communities along the border and being involved in this event in Belfast shows the commitment people in this area have to making real social change. The event was a great success and the ongoing work we are doing both in Connacht and across Ireland will continue with a much needed boost from the involvement of Rio and the BT Sport team'.
Thirty two players aged 14-17 from community projects across Northern Ireland, including refugee communities from Syria and East Timor, competed in the Hope Cup, a game treated like any other professional match. Presented by Rio Ferdinand, with team managers Glenn Hoddle and Joe Cole, and commentary from Darren Fletcher and Steve MacManaman. A host of famous football and media faces in the crowd, also ensured a memorable occasion. The players, coaches and youth workers were subsequently invited to attend the European Super Cup in Belfast on 11 August between Chelsea and Villareal as guests of UEFA. A documentary on the event and the projects behind it has since been screened on BT Sport Rio Ferdinand said: 'This event in Belfast has showcased how football brings people together and is a great way to tackle hate and promote understanding. The team at the Foundation do a brilliant job week in week out in delivering Youth In Action projects across Ireland, and it was great to see everyone coming together for one day to make a difference. It was fantastic to meet Dan and Jonathan and see of the work they are doing in the West of Ireland and I am looking forward to seeing the results of the upcoming cross border work they are planning this year.'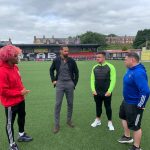 About the Rio Ferdinand Foundation: The Rio Ferdinand Foundation is a youth and community development charity. The Foundation work in the heart of the UK's most disadvantaged communities, supporting young people (aged 10-25) to tackle inequality and reach their potential. Their work delivers support for young people under four strategic themes; Safe Spaces; Health and Wellbeing; Strong, Safe and Inclusive Communities; and Skills, Progression and Employment. Their model is co-designed with young people, it is tried and tested in communities, evidence-based and research-led.
Set up by Rio Ferdinand in 2012, the Foundation aimed to address issues of inequality that Rio had experienced in his own life growing up in Peckham, South London. Supporting and empowering young people from working-class communities, tackling racism and inequality, and providing opportunities and pathways to deliver social mobility and realise personal potential were, and remain, the cornerstones of our work. Alongside Rio, 70% of our leadership board are from Caribbean and African communities and all of our trustees and staff have lived experience of at least some of the issues our work is tackling. Since 2012, the Rio Ferdinand Foundation has worked hard to dispel limiting beliefs in society. Now working across the UK and Ireland, with regional hubs in London, Manchester and Belfast, we have supported over 10,000 young people to tackle the inequality they face in their lives and realise their own potential. To find out more about Rio Ferdinand Foundation please visit www.rioferdinandfoundation.com/.
About the United Against Racism Programme 2021/2022 is the Foundation's 10th Anniversary Year. To mark their 10th Year the Rio Ferdinand Foundation is delivering a year-long youth-led 'United Against Racism' programme with partners across the worlds of sport, music, culture, e-sports and business. Fronting the programme alongside their three Youth Ambassadors (Poppy from Salford, Tyra from London and Leo from Belfast) are the patron and Founder Rio Ferdinand, Music Ambassador Heather Small previously of M People, and Arts Ambassador and actor Colin Salmon.
Throughout the year, the United Against Racism programme will be delivering youth and community programmes bringing communities together to tackle racism and end inequality alongside regional events, e-sports tournaments, podcasts and live social media content.